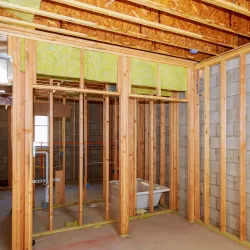 At True North Construction Company, we understand that your home is your sanctuary and that sometimes, it just needs a little updating or a fresh look.
Our team of experts is here to help with all of your remodeling needs, no matter how big or small. From kitchen and bathroom remodels to basement finishes and additions, we can help transform your home into the space of your dreams.
Our personalized approach means that we work with you every step of the way, from the initial design phase to the final touches. We understand that every homeowner has their unique style, needs, and budget, and we strive to meet those requirements with the utmost care and attention to detail.
With years of experience in the industry, we have built a reputation for excellence and professionalism. Our team of licensed and insured professionals is committed to delivering high-quality workmanship, using only the best materials and technologies available.
Whether you are looking to add value to your home or simply update its appearance, we are here to help. Contact us today for a free estimate and let us help you transform your home into the space of your dreams.
Benefits of Remodeling Your Colorado Home
Increased home value
Remodeling your home can add value to your property and potentially increase its resale value.
Enhanced comfort
Home remodeling can improve the functionality and comfort of your living spaces, making your home more enjoyable to live in.
Personalization
Remodeling allows you to customize your home to fit your unique style, needs, and preferences.
Increased space
Remodeling can add new living spaces or reconfigure existing ones, creating more space and improving your home's functionality.
Energy efficiency
Remodeling can include energy-efficient upgrades, such as installing new windows or adding insulation, which can save you money on utility bills and reduce your environmental footprint.
Updated look
Remodeling can give your home a fresh, modern look and update outdated features.
Healthier living
Remodeling can include improvements to indoor air quality, such as installing ventilation systems and using non-toxic materials, creating a healthier living environment.
Cost-effective
Remodeling can be a cost-effective alternative to buying a new home, especially if you love your current location but want to update your living space.
Improved functionality
Remodeling can improve the flow and functionality of your home, making it easier to navigate and use.
Professional expertise
By working with True North Construction Company, you can tap into our years of experience and expertise, ensuring that your remodeling project is executed to the highest standards of quality and professionalism.
Home Remodeling FAQ
What kind of remodeling services do you offer?
We offer a wide range of remodeling services including kitchen and bathroom remodeling, basement finishing, home additions, and more. Contact us to discuss your specific remodeling needs.
Do you provide design services for remodeling projects?
Yes, we can work with you to design a customized remodeling plan that meets your specific needs and style preferences.
How long does a remodeling project typically take?
The length of a remodeling project depends on the scope of work and size of the project. We will provide you with an estimated timeline during the consultation process and keep you informed throughout the project.
How much does a home remodeling project typically cost?
The cost of a home remodeling project varies depending on the scope of work, materials used, and other factors. We will provide you with a detailed cost estimate during the consultation process and work with you to stay within your budget.
Can I make changes to the design during the remodeling process?
Yes, we understand that changes may need to be made during the remodeling process. We will work with you to ensure that any changes are incorporated into the project plan and timeline.
Do you use eco-friendly or sustainable materials for remodeling projects?
Yes, we can incorporate eco-friendly or sustainable materials into your remodeling project upon request. We are committed to providing environmentally conscious options for our clients.
Do you provide a warranty for your remodeling work?
Yes, we offer a warranty on all of our remodeling work to give our clients peace of mind in their investment.
Colorado Home Remodeling
At True North Construction Company, we are proud to offer top-quality home remodeling services to homeowners throughout El Paso County and Fremont County, Colorado. Our team of experienced professionals has the knowledge and expertise necessary to transform any space into the home of your dreams.
In El Paso County, we provide our remodeling services to major cities such as Colorado Springs, Fountain, Monument, Palmer Lake, Manitou Springs, and Woodland Park. We are committed to helping homeowners in these areas achieve their remodeling goals, whether it be a complete home renovation or a simple update to a single room.
In Fremont County, we serve major cities such as Canon City, Florence, and Penrose. Our team understands the unique needs of homeowners in these areas and is dedicated to providing high-quality remodeling services that exceed expectations.
No matter where you are located in El Paso County or Fremont County, True North Construction Company is here to help bring your vision to life. Contact us today to schedule a consultation and see how we can transform your home.